Concrete Construction Company with Full Capabilities
---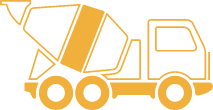 PRECISION PRODUCTION
We can produce cubic yards of concrete as required on-site every day for every project at every mix specification.

QUALITY CONTROL
From plant to paver, Ajax Paving conducts quality control testing at every stage of the mixing process to guarantee results.

SAFETY FIRST
At Ajax, we never compromise when it comes to quality or safety. At every job site and plant, our employees are trained to follow all safety standards.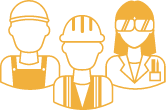 EXPERT CREWS
Experience is the ultimate competitive advantage. Our specially trained personnel keep concrete plants and paving operations running smoothly.

HIGH CAPACITY
Ajax can cut the largest projects down to size. We offer the ability to erect multiple plants on-site to deliver high-quality pavement.

BEST PRACTICES
From design to production to completion, we use industry-best practices to deliver outstanding results, today and years down the road.