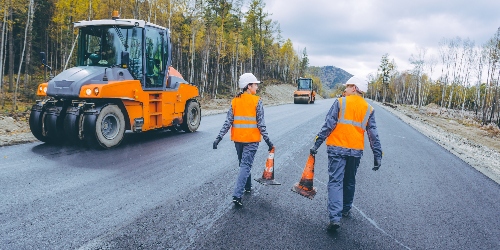 Working with an amateur versus an expert completely changes a project. No matter if your need is commercial, municipal, or residential, you get a different experience with a professional paving company. Quality, attention to detail, and the right attitude go a long way in separating an experienced crew and company from others.
Over the years, we have heard the horror stories of bad experiences our customers had before coming to us. Here at Ajax Paving, we pride ourselves on our professionalism.
In this article, we'll go over some of the reasons why your company or municipality should choose to work with qualified asphalt paving contractors like us.
1. The Lessons of Experience
Anyone can have a great teacher or read all the how-to manuals, but there are some lessons only experience can reinforce. With experience comes a standard of service that becomes typical in all a person or crew's work. Experienced crews can keep your project on its timeline to meet your deadline and stay on budget. Ajax has been paving since 1950! We have seen it all and can bring that experience to your project.
2. Expert Understanding of the Materials
Asphalt can be a tricky material. The durability of this paving material makes a big difference in the final product of your street, airport, highway, or other projects. Without proper handling, the weather resistance and protections asphalt should provide will not be there for you. Done right, an asphalt paving project should have a long lifespan, especially with minimal maintenance.
3. Safety is a Priority
An excellent paving project will not only last a long time, it will also keep those who drive on it safe. From slow-moving bikes or even walkers to speeding airplanes, traffic speed should not impact the safety of those on your paved area. A uniform finish that is smooth from end to end will keep everyone who uses the asphalt paving safe.
4. Identify Risks Early to Prevent Problems
Different paving projects require different asphalts. Knowing the difference between them is one of the aspects of an experienced asphalt company. Planning for the type of material requires considering the type of traffic, the weather, the budget, frequency of use, and more. Professional companies keep all this in mind when outlining your project.
Partnering with a Top-Notch Asphalt Paving Company
Getting a quality product delivered professionally will create an elevated experience for you, your business, or your community. Getting a well-paved asphalt area comes when you hire an experienced crew like Ajax Paving in Michigan or Florida. Our company has been in business for 70 years! We have learned a lot along the way and can bring that expertise to your project. Give us a call today to review your project.